Syros has been characterized "Sovereign of Cyclades and nymph of Aegean" mainly for the classic architecture of Hermoupolis, the capital of island but also the all prefecture of Cyclades.
Hermoupolis, is characterized by the neoclassic and baroque buildings but also the splendid churches.
The town hall of Hermoupolis, was manufactured at period 1876-1891 by famous Ernesto Chiller and adorns Miaoulis' square.
Saint Nikolaos, is one of the most beautiful Orthodox temples of Greece while the temple of Assumption of Virgin Mary, retains a masterpiece of famous Greek painter Dominique Theotokopoulos (El Greco).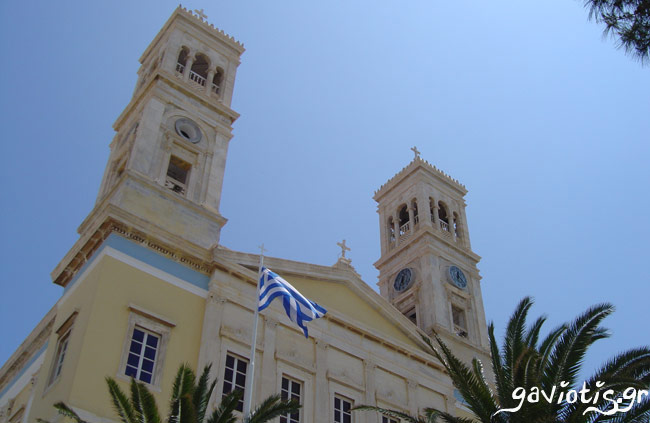 Ano Syros has completely different character and maintains the classic Cycladic style with the white houses and the narrow streets. In Ano Syros, they do not circulate vehicles and the city has only two entries because it was building as fortress in order to it protects the residents from the raids of pirates.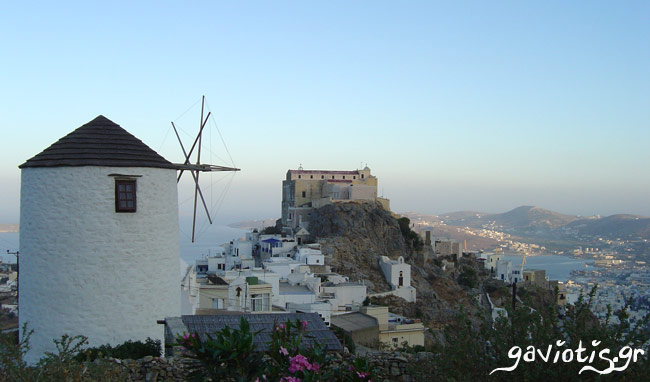 In Ano Syros Markos Vamvakaris was born and grew up. In the top of the hill that  Ano Syros is built, you may find  the Catholic temple of Saint George. The residents of Syros are at the half Catholics and coexist harmoniously with Orthodox for centuries.
The island has about 20.000 residents and tourists visit the island all the seasons. Allocate modern hotels for the service of visitors, the Shipyard "Neorion", the department of Engineers of Designing of Products and Systems of university Aegean, the faculty of merchant ship's captains of Academy of Commercial Navy, the Region of southern Aegean but also the all public services of Cyclades.
The beaches of Syros are characterized mainly by light blue waters and the big sandy beaches. There are beaches organised and busy, cosmopolitan with beach bar, quiet with little world even deserted where they have access only with ship in order to you choose the one that suits you.